Band Exhibition Show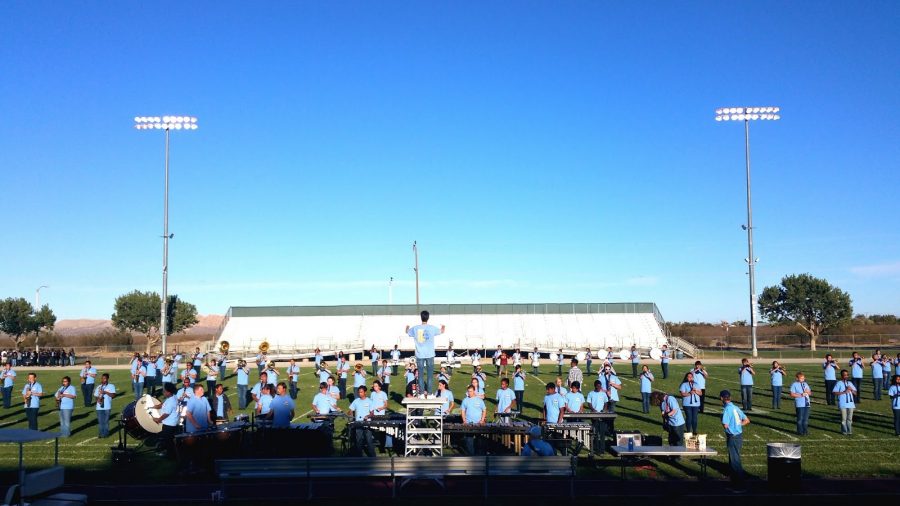 On September 24, Littlerock's Rucker Field was bustling with tuning instruments and school chants.
   Young musicians wearing their school shirts prepared for the show as the audience filled the bleachers. That day marked the first band show of the season, and it started off with the annual Exhibition Show. This year's Antelope Valley District Preview Show was performed at and hosted by Littlerock High School for the seventh year. The event itself has been going on for about 10 years. Seven schools participated: Littlerock, Palmdale, Highland, Lancaster, Eastside, Antelope Valley, and Quartz Hill High School.
   The exhibition shows are held yearly to give previews of the district's school bands in preparation for the competition later in the year. "Quartz Hill High School actually started doing this exhibition show, where all the schools in the district are invited to preview the field show that we are going to be putting up in competition. This event is not a competition, but all the band directors and advisors make comments to the other schools so that they can have things to improve on for the next competitions," explains musical director Mr. McQuilkin. "We started hosting it for a while, and then we started hosting our own field competitions. So Littlerock took over the exhibition show."
   "This event is an exhibition show. It is not a competition; it is just to see what all the bands have to deal with this year," Brandon Mannt, the pit section leader states.
   Much preparation was put into the exhibition. Mr. McQuilkin states, " We had band camp the very first week of August, a week before school started. Then we started prepping for it and learning the drill on the last day of band camp and ever since then."
   The musicians shuffled into the field at 3:45 p.m. with their saxophones, flutes, and shiny trumpets, and they started setting up their equipment. Quartz Hill started off the event by playing the National Anthem at about 6:30 p.m.. Then, they followed up with their field show preview songs, which related to their theme of Westside Story. The songs played were "Cool," "I Have a Love," and "Somewhere." Everyone watched in awe as colorful flags danced around in the air and synchronized players marched and played their hearts out. They were then followed by the Highland High School Band.
   Schools were brought together that day, and the event allowed for socialization between schools and the opportunity to show off and improve. Saxophonist Juliet Candray states, "It is great to see our fellow marching band friends from other schools and have a great time." This day will not be forgotten, and the competition will be something to look forward to.
   It was also announced that the band director of Quartz Hill High School, Mr. John McQuilkin, would be retiring after 37 years. He will be missed and thanked for his dedication and remarkable impact on Quartz Hill.
Photos by Jayan Patel