Practical Magic and Its Fall Enchantment
With fall in full swing, pulling out all the autumn comfort movies seems like the best way to wind down in the evenings. Across fall classics, popular Halloween films, and new horror movies released each year, one of the best and most underrated fall movies is definitely Practical Magic. Starring Sandra Bullock and Nicole Kidman as witch sisters, this timeless story surrounds a more domestic appreciation of witchcraft and curses, paired perfectly with a lovely and comforting soundtrack. Spoilers ahead!
This 1998 film does an excellent job at blending the elements of supernatural magic and casualness. By focusing on the human side of the plot, the movie includes witchcraft in a manner that leaves little context. However, the lack of explanation for small magical elements doesn't hinder the storyline at all; if anything, it adds to the easygoing atmosphere of the movie. The plot, of course, requires the inclusion of witches and their powers, yet it focuses on the uses of magic in everyday settings rather than on the magical origin itself. It's delightful to see a movie display the troubles of witches and their minor inconveniences (or major, since there's a literal murder involved). 
As for the plot itself, in the most simple and pivotal description, it involves two sisters in a witch family. One of them, Gillian (Nicole Kidman), has an abusive boyfriend who tries to kill her, in which the other sister, Sally (Sandra Bullock), kills him in response. Unfortunately, a resurrection spell goes wrong, and he comes back to haunt them. There are also spells and curses that affect the love lives of those in the Owens family. This sounds relatively dark with all of the murder, though it's done in a more humorous way that appeases whimsical senses. 
What's also refreshing and laid back about this movie is how it integrates magic with modern-day life. At some point, the sisters use whipped cream for a spell, and younger Sally starts a curse by simply writing on scratch paper and picking rose petals from their greenhouse. It frames their witchcraft in a more casual and softer light, a concept that I find endearing. The scenery, which adds to the serenity of the film, is absolutely enchanting. Set on an island in Washington state, the Owen's family house is a gorgeous romantic Victorian-style home on a lush green oceanside. The whole town is filled with community, greenery, and eventual acceptance. Paired with music that speaks to the soul, from Joni Mitchell to Stevie Nicks, all of the sensory aspects of this movie wash over you like a wave of solace.
Above all else, what makes this film so phenomenal is the women in it. As is to be expected from Sandra Bullock and Nicole Kidman, they bring a homey and fun bantering environment to the movie, accentuated by their roles as sisters in the story and how they interact with Sally's two daughters. Sally and Nicole's older aunts are also magnificent, as they are filled with wisdom and exuberance that has been aged through a lifetime of care. They embrace a life of laughter and fun that not only transcends but connects multiple generations together, exemplified by their family's "midnight margaritas," for instance. All of these women and their home life encase you in an atmosphere of support, unconditional love, and appreciation. The way they live reminds you to be carefree and enjoy the simple things in life.
The main essence of Practical Magic is that of a dazzling and bewitching movie, the embodiment of a warm hug. It has been a childhood favorite of mine, as it creates an atmosphere of nostalgia, enchantment, charm, and tranquility. Without a doubt, I can always rely on it when I need comfort in the fall.
About the Writer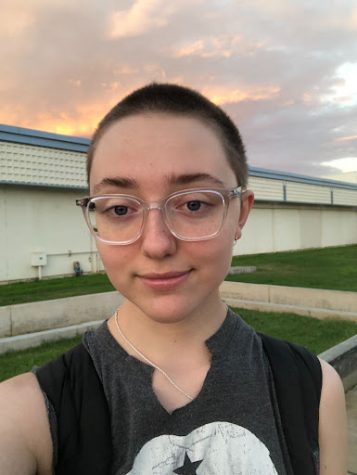 Tori Gomez, Staff Writer
Hi, my name is Tori Gomez! I'm a senior at Quartz Hill High School, and this is my first and final year of Journalism. I can already say that I absolutely...