Our Flag Means Death: Why It's So Riveting
Out on HBO Max, Our Flag Means Death is a ten-episode show directed by Taika Waititi that portrays a wonderfully chaotic story of pirate life. Its first episode was released at the beginning of March, and it has a 91% score on Rotten Tomatoes. 
What makes this show so wonderful—aside from the inherent enjoyability of pirate content—is the actual queer representation. While many mainstream shows may hint at a gay couple or romantic attraction between characters, there typically isn't much content that delineates from typical cisheteronormative standards. If there is, it's often subtle and quickly passed over, almost a whisper for those searching for the hints. In this series, however, there is no shying away from being clear about the queer rep. In fact, it plays quite a major role in various emotional developments in the show.
There is absolutely no way to talk about this show and its wholehearted fun without bringing up Taika Waititi. This man is honest, unapologetic, and real through and through. One of his first huge directing projects was Thor: Ragnarok, which, when released, was an extremely refreshing take on Marvel films and portrayed more relatable and genuine humor. Waititi is able to bring the sillier elements of his personality and filmmaking style into his movies in a very pure way. 
It should also be noted that Waititi's style of directing movies and shows has complex and holistic reasons. He is a man of Māori descent who are indigenous to New Zealand; this is extraordinarily essential to understanding the uniqueness of his contributions to Western film. Social and gender norms in his background are far different and more accepting than those of the Western world. He was not raised with toxic masculinity or strictly discriminatory views of the way different genders should behave, and this reflects clearly in his work. He's artistic and fun, he's respectful and genuine; all of these elements contribute to the absolute masterpieces that he produces. And Our Flag Means Death is a prime example of this.
On the other end of the cinematic world, the audience for this series is also incredibly niche. Regarding social media platforms, it appears that the Good Omens fandom has largely overlapped with the fan base for this show. Good Omens follows the story of a righteous yet doubtful angel and a chaotic yet optimistic demon facing the end of the world. Or, in other words, a 6,000-year-long slow burn with two old theological beings clumsily stumbling along the path of questionable morals.
Both of these shows somehow create a safe world where queerness isn't questioned but rather normal, and the focus on older gay men is also notable. Most queer representation focuses on younger generations, thus making this content more unique. Additionally, the execution and style of both is so unique that they make for an incomparable experience. When combining these values with the chaos of pirate conflicts and the specific flairs of Taika Waititi, Our Flag Means Death, in every aspect, is a truly enjoyable time.
About the Writer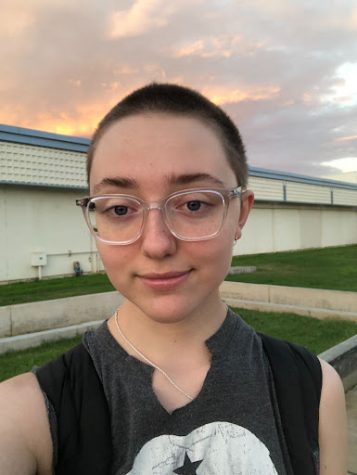 Tori Gomez, Staff Writer
Hi, my name is Tori Gomez! I'm a senior at Quartz Hill High School, and this is my first and final year of Journalism. I can already say that I absolutely...