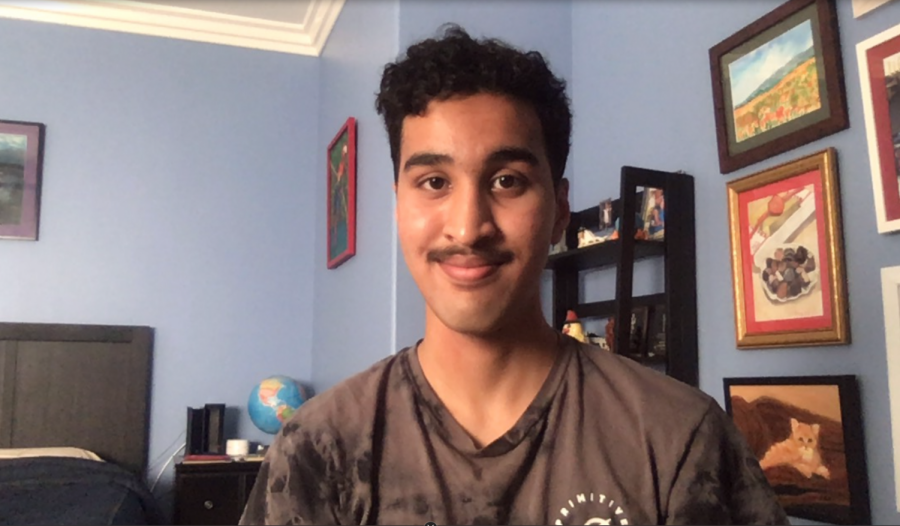 Hello! My name is Pranesh Kumar, and I am a Copy Editor for the QHHS Ubiquity Virtual Edition. As a fourth-year student of Journalism and an IB Senior, one could say I am a seasoned veteran at all things writing — including using the em dash (the best grammatical tool by far).
With all the craziness regarding the coronavirus, BLM, and the presidential election, I hope to effectively articulate and share my opinions with you throughout the school year. My breadth of knowledge in politics is pretty extensive, so expect some spicy hot takes on the world's most pressing issues!
Some of my hobbies include traveling, listening to chill music, and fiddling with my Rubik's Cube. I'm also a massive math and physics enthusiast. From starting a local physics program (ScienceCraft) to creating a research paper in astrophysics — you can rest assured that I don't behave as nerdy as you may think.
I'll have to admit: journalism was not initially a class that interested me. After joining journalism due to peer pressure, however, I have really grown to enjoy the program and become much more passionate about writing. I am looking forward to creating and editing articles for the newspaper this year!
9/25/20 Update
Hello everyone, here is a quick update on my life during these last few weeks of online school. To begin, I have been involved in a few extracurricular activities related primarily to community service. One such activity is ScienceCraft, a STEM outreach program I started during the summer that teaches physics, engineering, and other science-related topics through Minecraft. ScienceCraft reached out to over 60 students during the summer and was featured in an article by the AV Press newspaper. For the fall, we are kick-starting the program once more with support from the Lancaster City council and, now, state Senator Scott Wilk. Along with the ScienceCraft project, I am also volunteering for a senior hotline called GoldenTalk and providing some support to help seniors get through the last few months. This is a project I am so humbled to be a part of, and I am excited to continue volunteering during my senior year.
Being an IB student in the first semester of senior year, there is also a ton of school work I have to manage and college application essays that I need to write. This process has been a little stressful, as I have had to stay up late on many occasions and do more writing than I ever have in my life. My tendency to procrastinate is not helpful at all, but at the same time, I feel like I have been able to manage the workload and improve as a writer overall. I will be so grateful when the first semester is over, and I can finally enjoy myself next year.
Thank you guys for tuning in, and I am glad to share some of the things I have been involved in these past few weeks! I'll catch up with you all soon.
Pranesh Kumar, Copy Editor
Nov 08, 2020

A Kamala Harris or Mike Pence Presidency: What Would it Mean for America?

(Story)

Sep 28, 2020

Thoughts on "Engagement" Factor in Online Learning

(Story)

Sep 22, 2020

Eat Right, Eat This

(Story)

Aug 29, 2020

The Democratic National Convention: A Virtual Political Success

(Story)

Aug 26, 2020

Keeping Up with Technology

(Story)

Mar 13, 2020

The Impact of the Coronavirus on Sporting Events

(Story)

Feb 03, 2020

The Myths about Sports Scholarships

(Story)

Dec 06, 2019

Do the SAT and ACT Predict College Success?

(Story)

Dec 06, 2019

How Green Are Electric Cars?

(Story/Media)

Oct 22, 2019

Are Books Unnecessary?

(Story)

Sep 16, 2019

Who is Winning the US-China Trade War?

(Story)

Sep 05, 2019

Is Our Library Really a Library?

(Story)

May 08, 2019

Free College: Reasonable or Unrealistic?

(Story/Media)

Mar 27, 2019

Should the Voting Age Be Reduced to 16?

(Story/Media)

Mar 09, 2019

Is Listening to Music Bad for Students?

(Story/Media)

Feb 18, 2019

Should QHHS Have More Web Filters?

(Story/Media)

Jan 03, 2019

Should QHHS Have More Awards Ceremonies?

(Story/Media)

Dec 11, 2018

Do Students Study Only to Get Good Grades?

(Story/Media)

Nov 12, 2018

Is Taking College Classes Worth It for High Schoolers?

(Story/Media)

Nov 05, 2018

Do High Schools Really Prepare Students for the Future?

(Story/Media)

Oct 16, 2018

The New NAFTA isn't New

(Story/Media)

Oct 15, 2018

Multiple Choice vs. Short Answer Tests

(Story/Media)

Sep 16, 2018

The New York Times Op-Ed is a Scam

(Story/Media)

Sep 04, 2018

The Ethics of QHHS's Mascot Change

(Story/Media)

May 13, 2018

Were Michelle Wolf's Remarks Justified?

(Story/Media)

May 11, 2018

Quartz Hill and Marijuana

(Story)

Apr 21, 2018
Apr 01, 2018

Krabby Patty Formula Discovered in Australia

(Story)

Mar 30, 2018

The Credibility of Honors

(Story/Media)

Feb 26, 2018

The Issue With Dress Code

(Story)

Feb 09, 2018

Super Bowl LII Opinions and Thoughts

(Story)

Jan 26, 2018
Nov 12, 2017

Gamification and the Future of Education

(Story)

Oct 17, 2017

The Real Meaning of "Grades"

(Story)

Oct 08, 2017

City Life or Town Life?

(Story)

Sep 09, 2017

Are Classes Too Large?

(Story)

Aug 25, 2017

American School vs. Foreign Schools

(Story)

Aug 11, 2017